Five Reasons To Visit Bilbao, Spain

The Guggenheim with Jeff Koon's famous puppy made with real flowers
Winner of the 2018 European City of the Year, awarded last week by the Academy of Urbanism, Bilbao rose from its post-industrial economic malaise of the 1990s after the collapse of its steel and shipbuilding industries by investing heavily in culture. Culture and food brought me back to one of my favorite European cities last month and are just two of many reasons to visit.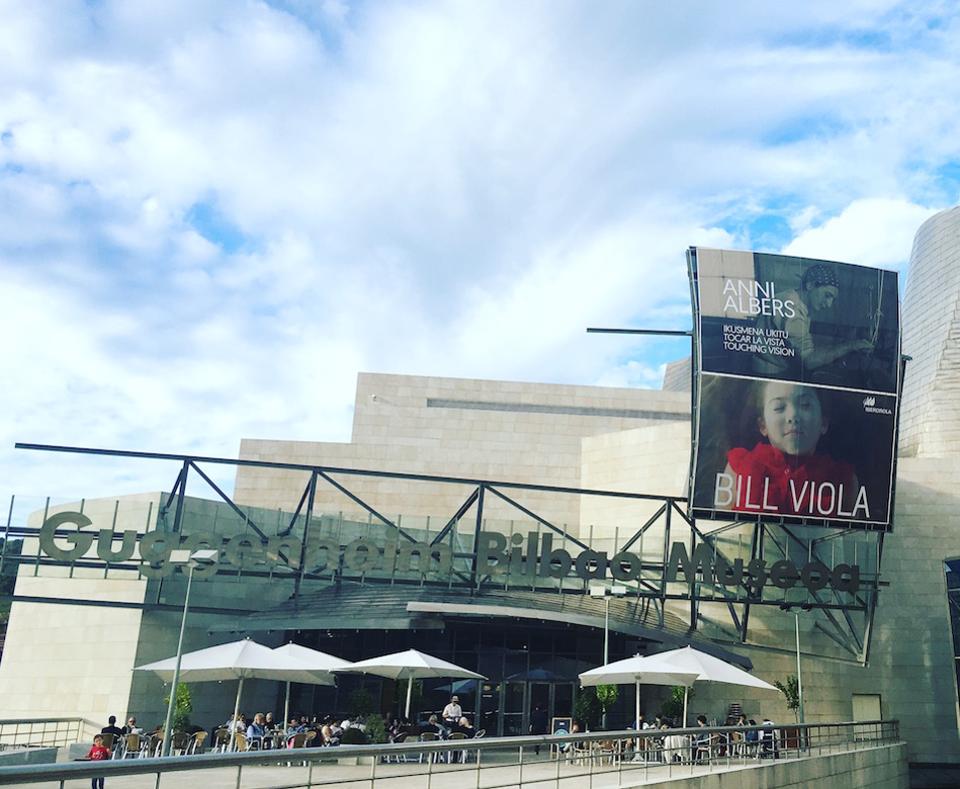 Guggenheim Bilbao is celebrating its 20th anniversary this year
1. Culture
The twentieth anniversary of the Guggenheim and a major exhibition by feminist artist Margaret Harrison at contemporary art museum, Azkuna Zentroa were the focus of my recent visit. Since the Frank Gehry-designed Guggenheim museum opened in 1997, it has held 165 exhibitions, 95 temporary exhibitions and 70 presentations from its permanent collection. Over 20 million visitors since opening isn't bad for a city without a tourist tradition. The phenomenon now internationally known as «the Bilbao or Guggenheim effect» where cultural investment focused on a museum leads to an economic uplift is being copied worldwide.

Azkuna Zentroa is showing Margaret Harrison's work until January 2018
As a big fan of video artist Bill Viola, I was keen to see the retrospective of his work. Bill Viola's mesmerising videos explore the cycle of life and death using fire and water to dramatic effect. At Azkuna Zentroa, in the centre of town,»Dialogues between sex, class and violence» (on until 14 January 2018), another retrospective art exhibition, is equally engrossing. Margaret Harrison's satirical drawings, paintings and installations often depict pop culture figures in less than flattering light. For a good overview of Basque art, there's a fine collection of 20th and 21st century Basque painters at Museo de Bellas Artes that includes Bilbao natives Mari Puri Herrero and Adolfo Guiard. The permanent collection also includes work by Spanish greats such as El Greco, Goya and Tapies, as well as international artists like Mary Cassatt, Paul Gaugin and Francis Bacon.

Chefs at work at Mina Restaurante
2. Michelin-starred restaurants
With over 40 Michelin-starred restaurants in Bilbao and the surrounding Basque country, a weekend visit is not long enough for a serious foodie. In fact the area can claim more Michelin-starred restaurants than anywhere else in Europe. Just outside of Bilbao off the airport road, Azurmendi by Chef Eneko Atxa is the only restaurant in Basque country with three Michelin stars. If you only have time for one Michelin starred experience in Bilbao, Mina Restaurante is a must. This worthy recipient of a Michelin star (awarded from 2013), serves only 38 guests at six tables and at the bar each evening. Chef Álvaro Garrido opened Mina in 2006 with his partner Lara Martín in a beautifully converted warehouse on the river in the old town.
«Weakfish» beautifully presented at Mina was anything but weak
We sat at the bar in front of the open kitchen to watch Chef Álvaro Garrido and his fellow chefs calmly preparing our tasting menu which has a focus on local and seasonal products. There was no shouting or stress in the kitchen and this was reflected in the beautifully presented 10-course innovative tasting menu (a reasonable 85 Euros) that included mussels in lemongrass and coconut soup, black cheese with mushroom and crunchy chicken, aubergine conit with red tea and prawn and smoked bluefin tuna belly. The meal finished with a satisfying parade of desserts starting with saffron crème brûlée with pear and amaretto for dessert, followed by a delicious spiced milk icream on a bed of ras al hanout crumble and mascarpone and honey, concluding with petit fours.

Pulpo at Guretoki, one of the city's best venues for pinxtos
3. Pinxtos
The Basque country can pride itself for having some of the best restaurants in the world as well as a multitude of cafes and bars serving Basque tapas or 'pintxos'. It seems hard to go wrong with these petit snacks but a few really stand out. The historic Cafe Iruna has a lovely Moorish decor. Don't leave without trying the popular Moroccan lamb skewers, prepared on an inside barbecue. Bar Bacaicoa on Plaza Miguel de Unamuno has been serving grilled chorizo and mushroom pinxtos for over 50 years. Also not to be missed is Guretoki on Plaza Nueva where the pulpo and softshell crab are essential.
4. Vizcaya Bridge, the world's first transporter bridge built in 1893 near Bilbao
Slightly further afield but easily reachable by Norman Foster's RIBA award-winning Metro, is the Vizcaya Bridge, a World Heritage site. Built in 1893 and the first of its kind, this remarkable 'hanging bridge' links the towns of Portugalete and Las Arenas crossing the mouth of the Nervion River. The bridge is more commonly known as Puente Colgante (the hanging bridge) because it features a gondola suspended by steel cables that can transport 6 cars and about 30 foot passengers across the river in a minute and a half.

Santiago Calatrava's Zubiziri bridge
5. Architecture
After visiting Margaret Harrison's exhibition downstairs at Azkuna Zentroa, explore the rest of this Phillipe Starck designed culture and leisure centre. On the main floor you'll see 43 individually designed pillars in marble, stone, terracotta, bronze, aluminum and wood, each representing different historical periods. Then look up and see the swimmers in the glass bottomed swimming pool far above. Don't worry, the glass is frosted so it's not as voyeuristic as it sounds. Many of the architectural marvels are along the River Nervion, which has a fantastic array of bridges. Zubizuri (Basque for 'white bridge'), a stunning suspension cable footbridge is also known as the Calatrava Bridge after Santiago Calatrava, the architect who built it. The striking arched structure resembles a sailboat but its glass surface was too slippery when it rained so it had to be covered with a rubber mat which while more practical does detract from its beauty somewhat. La Salve, the red bridge beside the Guggenheim was built in the early 1970s and was the first bridge in Spain to be built with the cable-stayed system. It has only been red since 2007 when, on the tenth anniversary of the Guggenheim, a great red gate by the French artist Daniel Buren called «L'arc rouge» was added.

View of La Salve bridge from Gran Domine roof terrace